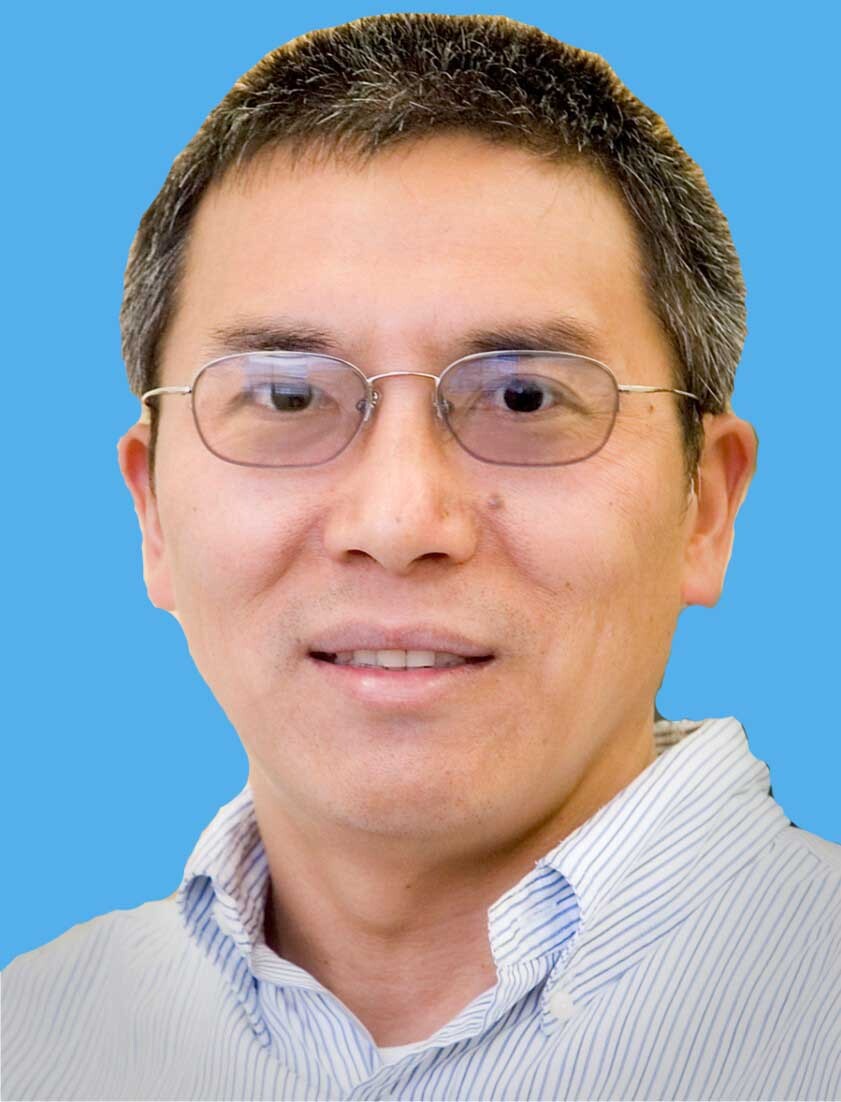 林 硕

职务:兼职教授,长江客座教授
电话:+86-755-2603-2163
邮箱:shuolin@ucla.edu
教育背景及工作经历

2005 –至今 长江客座教授,北京大学
2003 –至今 教授,加利福尼亚州立大学洛杉矶分校
2002-2001 副教授,加利福尼亚州立大学洛杉矶分校
2001-2000 副教授,乔治亚医学院
1996-1999 助理教授,乔治亚医学院
1995-1991 博士后,麻省理工学院
1986-1991 博士,波士顿大学
1981-1984 硕士,中国农业科学院
1977-1981 学士,四川农学院

奖项及荣誉

1997-1999 美国血液学学会/Stratton-Jaffe青年教师奖
1999 乔治亚医学院优秀青年教师奖
2001-2004 杰出海外华人科学家奖

研究兴趣

由于斑马鱼具有体外发育,胚胎透明,可以在单细胞水平上对胚胎发育和器官形成进行直接的分析等优点,被认为是一个很好的体内化学生物学研究的模式脊椎动物。随着斑马鱼基因组序列项目的完成,其作为功能基因组学和化学生物学的工具为解决基本的生物学问题,人类疾病建模和新药研发提供了新的巨大的机会。我们正在使用化学生物学方法,利用斑马鱼鉴定在癌症,心血管,代谢和神经系统疾病上具有治疗性应用的新的小分子。
北京大学深圳研究生院拥有大量的转基因斑马鱼品系为利用斑马鱼进行化学基因组学研究提供一个的独一无二的资源,这些表达荧光蛋白标记物的转基因品系,标记每一个特定的组织或器官,这使得在活的胚胎上观察小分子的作用成为可能。我们已经利用斑马鱼从院内化学合成和中药的纯化筛选中Several small molecule libraries obtained from the in-house chemical synthesis and purification from Chinese medicines were screened with zebrafish and novel compounds that inhibit cell cycle protein CDK2, angiogenesis, GSK3beta and signal pathways including SHH and Wnt have been identified.获得了几个小分子库,而且已经确定了具有抑制细胞周期蛋白CDK2,血管生成,GSK3beta包括Shh和Wnt信号通路的新的化合物。

图1. 转基因斑马鱼.

A, insulin:GFP 转基因斑马鱼, 受精后30小时.
B, pomc:GfP and prol:RFP 转基因斑马鱼, 受精后36小时. 垂体被标记绿色荧光蛋白和红色荧光蛋白.
C, flk1:GFP 转基因斑马鱼, 受精后48小时. 白色箭头指示节间血管

代表性成果

1. Wei Qin, Zelin Chen,Yihan Zhang, Ruibin Yan,Guanrong Yan,Song Li,Hanbing Zhong, and Shuo Lin.," Nom1 Mediates Pancreas Development by Regulating Ribosome Biogenesis in Zebrafish" PLoS One.2014,9(6):e100796.
2. Da Liu, Zhanxiang Wang, An Xiao, Yutian Zhang,Wenyuan Li, Yao Zu,, Shaohua Yao, Shuo Lin,Bo Zhang.," Efficient Gene Targeting in Zebrafish Mediated by a Zebrafish-Codon-Optimized Cas9 and Evaluation of Off-Targeting Effect" Journal of Genetics and Genomics.2014,41(1): 43-46.
3. ChaoCheBo YangXianlong JiangTaofeng ShaoZhixiong YuChuanye TaoSong LiShuoLin.," Syntheses of Fused Tetracyclic Quinolines via Ugi-Variant MCR and Pd-Catalyzed Bis-annulation" The Journal of organic chemistry.2014,79(1): 436-440.
4. Guiqi Ren, Song Li, Hanbing Zhong and Shuo.,"Encodes Tryptophan Hydroxylase Zebrafish tyrosine hydroxylase 2 Gene" J. Biol. Chem. 2013, 288:22451-22459.
5. Lu J, Xin S, Meng H, Veldman M, Schoenfeld D, Che C, Yan R, Zhong H, Li S, Lin S.,"A Novel Anti-Tumor Inhibitor Identified by Virtual Screen with PLK1 Structure and Zebrafish Assay" PLoS One. 2013,26;8(4):e53317.
6. Che C., Li S., Yu Z. X., Li F. F., Xin S. C., Zhou L. Y., Lin S., Yang, Z., "One-Pot Syntheses of Isoquinolin-3-ones and Benzo-1,4-diazepin-2,5-diones Utilizing Ugi-4CR Post-Transformation Strategy"ACS Combinatorial Science.2013, 15 (4):202-207.
7. Xin SC, Zhao YQ, Li S, Lin S, Zhong HB,Application of zebrafish models in drug screening"Yi Chuan. 2012, 34(9):1144-52.
8. Peng Huang, An Xiao, Mingguo Zhou, Zuoyan Zhu, Shuo Lin,Bo Zhang.," Heritable gene targeting in zebrafish using customized TALENs" Nature Biotechnology.2011,29(8) :699–700.
9. ZhidanXiaXiangjunTongFangLiang Yihan ZhangChikin KuokYingla ZhangXinxingLiuZuoyanZhuShuoLinBoZhang.," Eif3ba regulates cranial neural crest development by modulating p53 in zebrafish" Developmental Biology.2013,381(1):83-96.
10. Yike YuanYuwei ZhaoShengchang XinNi WuJiaolin WenSong LLijuan ChenYuquan WeHanshuo YangShuo Lin.," A Novel PEGylated Liposome-Encapsulated SANT75Suppresses Tumor Growth through Inhibiting HedgehogSignaling Pathway" PLoS One.2013,8(4):e60266.
11. Chao Che, Song Li, Bo Yang, Shengchang Xin, Zhixiong Yu,Taofeng Shao, Chuanye Tao, Shuo Lin, and Zhe.," Synthesis and characterization of Sant-75 derivatives as Hedgehog-pathway inhibitors" Beilstein J. Org. Chem..2012,8: 841-849.
12. Yanqun Chen, Bin Wu, Liangliang Xu, Huapeng Li, Jianhong Xia, Wenguang Yin, Zhuo Li, Song Li, Shuo Lin, Xiaodong Shu and Duanqing Pei.,"A SNX10/V-ATPase pathway regulates ciliogenesis in vitro and in vivo"Cell Research . 2012, 22(2)" 333-345.
13. Liangliang Xu, Wenguang Yin, Jianhong Xia,Meixiu Peng,Song Li,Shuo Lin,Duanqing Pei,and Xiaodong Shu.," An Antiapoptotic Role of Sorting Nexin 7 Is Required for Liver Development in Zebrafish"HEPATOLOGY 2012;55:1985-1993
14. Lu Chen, Xi Ren, Fang Liang, Song Li, Hanbing Zhong, Shuo Lin.," Characterization of two novel small molecules targeting melanocyte development in zebrafish embryogenesis" Pigment Cell & Melanoma Research.2012,25(4):446–453.
15. Zhang Y, Morimoto K, Danilova N, Zhang B, Lin S.," Zebrafish Models for Dyskeratosis Congenita Reveal Critical Roles of p53 Activation Contributing to Hematopoietic Defects through RNA Processing" PLoS ONE.2012,7(1) :e30188.
16. Guiqi Ren, Shengchang Xin, Song Li, Hanbing Zhong, Shuo Lin.," Disruption of LRRK2 Does Not Cause Specific Loss of Dopaminergic Neurons in Zebrafish" PLoS one.2011,6(6) :e20630.
17. Hanbing Zhong, Danyang Wang, Nan Wang, Yesenia Rios, Haigen Huang, Song Li, Xinrong Wu,Shuo Lin.," Combinatory action of VEGFR2 and MAP kinase pathways maintains endothelial-cell integrity" Cell Research.2011,4(1):1080-1087.
18. Fei Qi, Jianbo Song, Hanshuo Yang, Wei Gao, Ning-ai Liu, Bo Zhang, and Shuo Lin.," Mmp23b promotes liver development and hepatocyte proliferation through the tumor necrosis factor pathway in zebrafish" Hepatology.2010,52(6) :2158-66.
19. Chao Che, Song Li, Xianlong Jiang, Junmin Quan, Shuo Lin, and Zhen Yang.," One-Pot Syntheses of Chromeno[3,4-c]pyrrole-3,4-diones via Ugi-4CR and Intramolecular Michael Addition" ORGANIC LETTERS.2010,12(20)"4682-4685.
20. Ren X, Gomez GA, Zhang B, Lin S. "Scl isoforms act downstream of etsrp to specify angioblasts and definitive hematopoietic stem cells" Blood. 2010, 115:5338-5346.
21. Hanbing Zhong, Shengchang Xin, Yanqiu Zhao , Jing Lu , Song Li, Jianxian Gong, Zhen Yang and Shuo.," Genetic approach to evaluate specificity of small molecule drug candidates inhibiting PLK1 using zebrafish" Molecular BioSystems,2010,6(8):1463-8.
22. Haixia Zou, Liyan Zhou,Yuanzhen Li, Yi Cui, Hanbing Zhong,Zhengying Pan,Zhen Yang.," Benzo[e]isoindole-1,3-diones as Potential Inhibitors of Glycogen Synthase Kinase-3 (GSK-3)" Journal of Medicinal Chemistry.2010,53(3): 994-1003.
23. Hanbing Zhong, Haixia Zou, Mikhail V. Semenov, Deborah Moshinsky, Xi He, Haigen Huang, Song Li, Junmin Quan, Zhen Yang and Shuo Lin.," Characterization and development of novel small-molecules inhibiting GSK3 and activating Wnt signaling" Molecular BioSystems.2009,11(5):1356-1360
24. Hongbo Yang, Jing Xiang, Nengdong Wang, Yun Zhao, Joel Hyman, Song Li, Jin Jiang, James K. Chen, Zhen Yang, Shuo Lin.," Converse conformational control of smoothened activity by structurally related small molecules" JOURNAL OF BIOLOGICAL CHEMISTRY.2009,284(31):20876-884.
25. Jing Xiang, Hongbo Yang, Chao Che, Haixia Zou, Hanshuo Yang, Yuquan Wei, Junmin Quan, Hui Zhang, Zhen Yang, Shuo Lin.," Identifying tumor cell growth inhibitors by combinatorial chemistry and zebrafish assays" PLoS ONE.2009, 4(2):e4361.
26. Sumanas S, Gomez G, Zhao Y, Park C, Choi K, and Lin S. "Interplay between Etsrp/ER71, Scl and Alk8 signaling controls endothelial and myeloid cell formation" Blood. 2008,111: 4500-4510.
27. Sumanas S, Lin S. "Ets1-related protein is a key regulator of vasculogenesis in zebrafish" PLoS Biol. 2006, 4:e10.
28. Sumanas S, Jorniak T, Lin S. "Identification of novel vascular endothelial-specific genes by the microarray analysis of the zebrafish cloche mutants" Blood. 2005,106: 534-541.
29. Lee KY, Huang H, Ju B, Yang Z, Lin S. "Cloned zebrafish by nuclear transfer from long-term-cultured cells" Nat Biotechnol. 2002, 20: 795-799.
30. Long Q, Huang H, Shafizadeh E, Liu N, Lin S. "Stimulation of erythropoiesis by inhibiting a new hematopoietic death receptor in transgenic zebrafish" Nat Cell Biol. 2000, 2: 549-2552.
31. Jessen JR, Willett CE, Lin S. "Artificial chromosome transgenesis reveals long-distance negative regulation of rag1 in zebrafish" Nat Genet. 1999, 23: 15-16.
32. Wang H, Long Q, Marty SD, Sassa S, Lin S. "A zebrafish model for hepatoerythropoietic porphyria" Nat Genet. 1998, 20: 239-243
33. Jessen JR, Meng A, McFarlane RJ, Paw BH, Zon LI, Smith GR, Lin S. "Modification of bacterial artificial chromosomes through chi-stimulated homologous recombination and its application in zebrafish transgenesis" Proc Natl Acad Sci U S A. 1998, 95: 5121-5126.
34. Lin S, Gaiano N, Culp P, Burns JC, Friedmann T, Yee JK, Hopkins N. "Integration and germ- line transmission of a pseudotyped retroviral vector in zebrafish" Science. 1994, 265: 666-669.